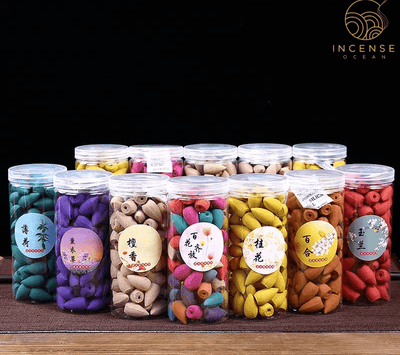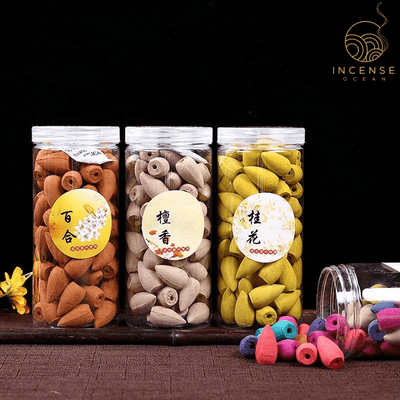 $24.95
Incense Cone
Incense cones are not as popular as their counterparts; incense sticks and it's quite hard to see why. These cones are affordable, effective and they last just as long as an incense burner. If you've been contemplating trying some cones with your waterfall incense burner or your backflow incense burner, this is the article for you.
Reasons To Use Incense Cones
Here are four reasons why you should try out incense cones.
1- Stronger Fragrance - Due to the shape and production of cones, they smell a lot stronger than incense sticks. These cones are shaped like cones with the incense ingredients packed tightly hence the reason they smell stronger and faster than incense sticks.
2- Easier clean-up - When the cone is done burning, clean-up is a lot easier. Unlike incense sticks which tend to leave more ash, incense cones leave ash in the shape of the cone and in much smaller quantities. If the clean-up process is something you absolutely abhor, try out these cones.
3- Lasts just as long as incense sticks - A common misconception concerning cone burners is that they don't last long. This is very untrue. Good quality incense cones last just as long as incense sticks.
4- Waterfall incense burners and Backflow incense burners - These incense burners are burners that combine the soothing fragrances of incense with a very cool visual of the smoke. With these incense burners, you can see the smoke permeating the air. Incense Ocean offers several cool incense burners.
It can be hard to finding quality incense cones that provide all these benefits which is why you should only opt for credible brands.
About Incense Ocean
Incense Ocean is a shop for all things incense. They sell amazing incense items including incense itself, bowls, incense burners, and several breath-taking designs. Their incense cones come in several fragrances.
They provide the classic natural incense cones. They also sell natural Chinese incense cones.
For those who want to experience the cool visual effects of backflow incense burners, Incense Ocean can also meet your needs. They sell cones specifically made for backflow incense burners.
You can find them in sandalwood scents and other fragrances. Try them out and let us know what you think! Thank you for reading.