Incense often comes in
multiple fragrances
. If you have been searching to know the
best backflow incense cones
, then this article is the best for you. We are going to talk about the top backflow incense cones in this article, so read on and keep yourself updated. 
Eleet Assorted Natural Incense Cones
This is the first on our list. Here are the key points of these cones:
The box has 120 cones
It has multiple unique fragrances
Its ingredients are 100% natural
It is rolled with hands in India

The reason why we have listed this as our number one best backflow incense cone is that it comes in 12 packs and wonderful fragrances, such as Opium, Lavender, Sandal, and Vanilla.
Another great thing about the Eleet incense cones is their different variety of unique scents which can serve a variety of purposes. If you want your yoga room to have an awesome smell or you want to have different exotic scents in your home, you can go for this incense cone.
As we have said earlier, the ingredients used for these cones are 100% natural and they include essential oils and resins. To make you have a sweet incense experience, they were rolled with hands in India.
There are up to 120
incense cones
in the box and it takes about fifteen to twenty minutes before it completely burns out. The reason for advertising these cones is to lighten your mood by
alleviating stress
. These incense cones do not only smell good but can also serve as a
pleasant gift
for a person who just loves to have
natural scents
around him/her. These incenses are just fantastic.
This is our second among the backflow incense cones. Here are the key points of these cones:
One pack has about 100 cones
It takes 15 minutes to completely burn out
Accessories have been included in the box
It has many different unique smells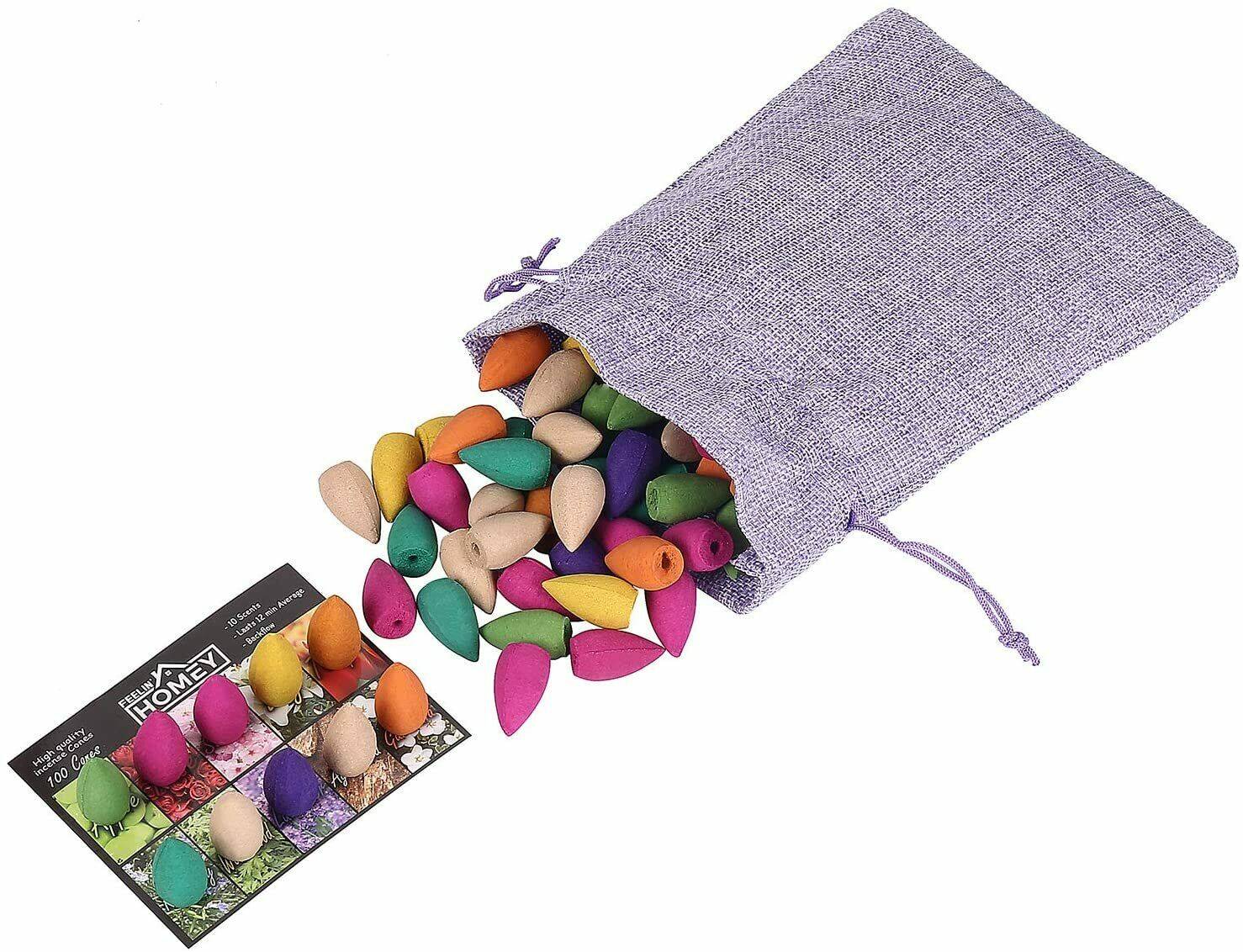 If you need backflow incense, then this Feelin' Homey incense will be a great pick for you. They have multiple unique scents, such as tulips, lily, sakura, lavender, apple, and rose. With these awesome backflow cones, you will be guaranteed hours of unique fragrance in your room just after a 15-minute burnout. To increase its effectiveness, ensure that it is used with a quality incense burner.
Thee incense is among the best that you can put in your workplace, home, meditation space, or yoga studio. After you have lighted them, ensure that they are not in a place where there is
direct wind
; otherwise, the incense will quickly burn out. Alongside the
100 cones
in the pack, there is also an intro card with a guide on the usage, an internal bag, a purple sack, and an external bag.
The Hem 12 Assorted Boxes
This is also among the best backflow incense cones available. Here are the key points of these cones:
120 cones are in the box
Variety of unique scents
Can burn for about 15 minutes
Great for alleviating stress
This
backflow incense cones
have 12 boxes. In each of the boxes, there are 10 pieces, totaling 120 cones. What this simply means is that you can have up to 120 different scents in your meditation space, home, yoga room, or wherever you wish. They are
cost-friendly
and can offer the user unique and exotic fragrances for several hours.
They supposedly can help you sleep, make your
yoga room smell great
, & even help you 
stress release
in your mind and body.
The Hem backflow incense cones can stay for 15 minutes before it completely burns out. But, you need to put it where there is no direct wind for it to last up to the expected period. They can be used for relaxation, calming, and also to reduce anxiety. They can even help to make you sleep.
There are still many awesome backflow incense cones, but we just mentioned a few of them. Don't miss out another fantastic article:
How to Burn Incense
?